Catchment System Improvement
Whether you are:
1) building a new home and need a catchment system, or
2) you're replacing an old system with a new one, or
3) you just want to upgrade your system so you have better water in your home,
it pays to have it designed by someone who knows what works, what doesn't, and what will fit your unique needs. Everyone who owns a catchment system knows it's true: "Poor design comes back to bite you in the butt later!" Don't let it happen to you! We know how to bring together all the elements of the system so you get the best quality water you can!

---
The best way to keep your tank clean...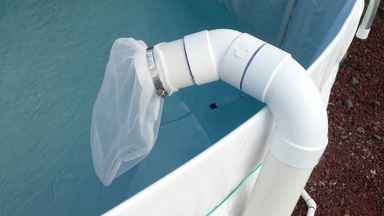 One gallon nylon paint strainer w/hose clamp
A simple 1-gallon nylon paint strainer (less than $3 for 2 of them at your hardware store) will catch leaves & flowers, flotsam & jetsam dropped on your roof by birds (or thrown up there by children!), etcetera, while allowing the water to go through. All you have to do is exchange it with a clean one about once a month! Your catchment tank will stay cleaner, with only dust to clean up from the bottom. No more leaves coloring and flavoring your water!

There ARE other ways to provide your tank with "clean" water input...and the solution that will work best for you depends upon your catchment tank height, gutter height, and accessibility issues.

Why not let Maui Catchment Service figure out what your options are so you can make the decision of how to have the best water possible?
---
---
Pumps - Filters - UV lights - First Flush Diverters - Covers & Supports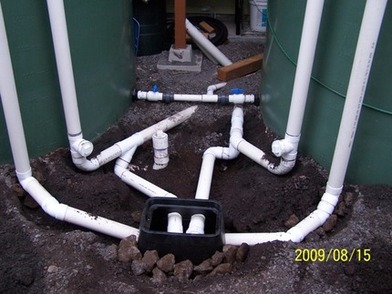 This is an underground self-resetting "heavy debris" diverter and overflow system that allows the owner to flush out his downspout pipes via a surface accessible box. His overflow simply percolates into the rock in and below the box...

We can do it all for you! Call us to schedule a free inspection and quote today!



---
---
Filters & UV microbial protection--We know how to do it right!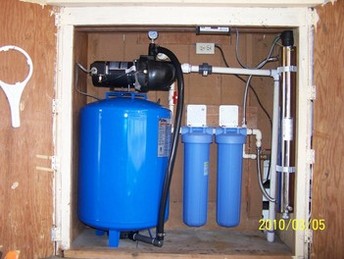 Click photo to enlarge it...
Did you know that larger filter cartridges:
1) provide more surface area for filtering your water?
2) provide better flow-through rates (less resistance)?
3) don't need to be changed as often as small filters?
4) don't cost any more (per year) than small filters?

Ultraviolet Sterilization
Ultraviolet (UV) light systems can be used to attain drinkable water with no worry of active (reproducing) microbes. The UV light renders even the cysts of Giardia and Cryptosporidium impotent by zapping their DNA.

Ultra-fine filtration
Ultra-fine filtration (1/2 micron - 1 micron) can also stop cysts--some refrigerator water filters will do this, but they don't handle high flow rates and they must be changed fairly often. They are good for drinking water at small flow rates (refrigerator door dispenser).

We know what works efficiently and dependably...and we install it all properly.


---
---
Do you want water that you can absolutely trust?


Then upgrade to an ultraviolet sanitizing system...
Here are "before and after" photos of an installation for a customer who was tired of picking up or purchasing bottled water. A simple rebuild using large filters and a UV sterilization unit gave them water they can count on! Note the use of stainless steel flex lines to connect to the UV sterilizer unit. This prevents UV light from damaging the CPVC plumbing, and permits excellent flow rates and corrosion resistance! That's something you don't get in most installations!

Top quality at a reasonable price!